furniture
You can wrap furniture in colorful vinyl or even in classic wood-structure. With vinyl wraps, you can quickly and simply change the look of any hard surface. So if you don't like the look of your desk or want to upgrade your table or change your bedposts, we've got you covered by offering the wraps you need to give all the furnishings in your home a significant makeover.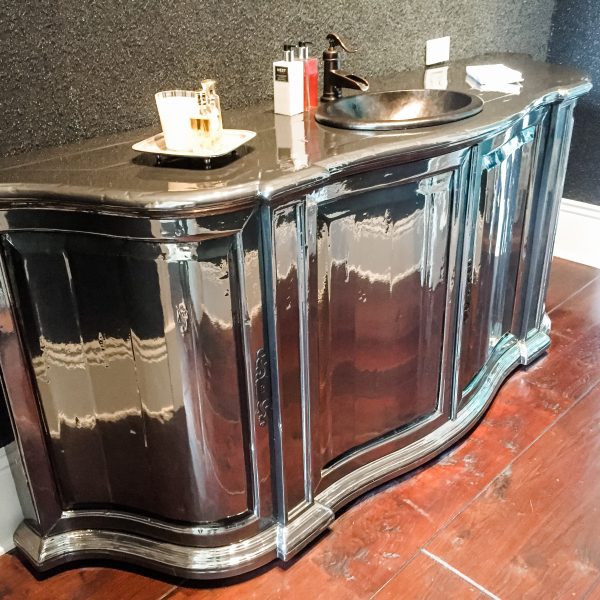 Color and Style Options
for Furniture Wraps
Unless you shop at specialty furniture stores, you usually don't have many colors to choose from. Often, your only options are black, white or natural wood. With wraps, though, you can get as creative and colorful as you want.
We have more than 100 distinct colors to choose from in gloss, matte and wood grain and even chrome
This picture shows the result of black chrome !
If you want a standard matte finish in colors that pop, check out all our colors for furniture wraps. Imagine your dresser drawers in a bright brimstone yellow or a wardrobe in bubblegum pink. For a more subdued effect, you could choose light brown for a desk or nougat brown for a bed headboard. Whatever color palette you can imagine, create it with the many matte finish furniture wraps available from Rvinyl.
Or, perhaps you prefer a glossy finish for your furniture. You have more than 30 slick color choices with 3M 1080 gloss furniture wraps. Imagine the dramatic looks you could get by using shiny black rose, metallic charcoal or sparkling white gold on your furniture. These shimmery colors perfectly accent drawers, doors and any other parts you want to stand out.
Got Ikea furniture or plain black or white pieces from Walmart or Target? You can give them the warm look of wood by covering them with our Rcraft wood grain furniture wraps. With these, choose from dark, swirling burlwood or classic blond oak. These wood finish wraps have patterns you can feel with embossed wood grains in a variety of hues. Make your economy furniture look luxurious with these wood grain wraps.
Types of Furniture You Can Wrap
Whether you want to rehabilitate an old table with the look of real wood grain, or you'd like to add the look of brushed steel or aluminum to your refrigerator or oven, we've got the vinyl furniture wraps you need for the job. To help get your creative juices flowing we've listed some of the most popular applications for our furniture wraps below:
Table Tops
Dressers
Book Cases
Desks
Refrigerators
Ovens
Doors
Bedposts
The possibilities are literally endless since all of our furniture wraps can be installed on anything with a hard and non-porous surface. What does that mean? All it means is that you're fine unless you want to wrap a pillow or a teddy bear. Also, only use these wraps indoors, since the heat, humidity and moisture outside will cause the adhesive to wear off and not stick. Beyond that, let your imagination go wild.
Why Should You Wrap Your Furniture?
Not sure about wrapping your furniture? What's holding you back? The limitless color options? The numerous uses for wraps? Or maybe you don't know the best applications for these coverings. Fear not. We've got your back when it comes to giving you inspiration for how to use these furniture wraps.
You can wrap just about any hard, non-porous surface in your home or beyond. Here are some ways you can use wraps to your advantage.
1. Alter the Look
If you get tired of your home furnishings, maybe you only need an upgrade. Wrap the furniture in any color you want for an instant change in your home's appearance. In an afternoon, you can go from an all-black bedroom furniture suite to one that has wood grain or a glossy ivory finish. Going from dark to light-colored furniture will immediately brighten the room. If you want a cozier look, switch to darker, warmer colors or wood grains instead. With a change in the furniture color, you'll immediately shake up the vibe of your home without repainting.
2. Conduct a Color Trial
Maybe you don't want to use wraps permanently, but prefer paint. The answer is simple: Use wraps to see how well you like a specific color on your furniture for a week or two. If you change your mind after a couple of days, remove the vinyl wrap and try a different color. Maybe you fall in love with the new look. If so, take off the wrap and paint the piece.
Vinyl furniture wraps give you the chance to see how much you like a specific hue. With a color trial, you see how the furniture looks over several days in different lights. It's a less permanent option than painting.
3. Make a Temporary Change
Got a party coming up? Theme your furniture to match the party's colors. Wrap your coffee table with team colors for a football watch party, or cover your dining room table with school colors for a graduation celebration. After the party, peel off the furniture wrap and toss it. The cost for these wraps is less than many tablecloths. And you won't have to worry about the wrap getting pulled off like a tablecloth can.
4. Create Quick-Change Set Pieces
Set decorations are typically multi-purpose. With vinyl wraps, it's easy to quickly change the look of furnishings on set. You can even use the wraps to create backdrops or other set pieces for a play. The low cost of these wraps fits into the budgets of even nonprofit community theater groups, and the fast installation of vinyl wraps means your stage crew won't need to spend a whole day painting set pieces. Just wrap and focus on getting other parts of the stage ready for the big day.
5. Renovate Your Kitchen
The most significant parts of your kitchen's appearance are the cabinets and drawers. With vinyl furniture wraps, you can give your kitchen a makeover without ripping out fixtures. You can even cover your refrigerator door and oven with the wrap to unify your kitchen appliances with the cabinetry and countertops. Forget contract-led renovations that cost thousands of dollars. If you want a fresh look in your kitchen, use wraps to get the change you want.
6. Holiday Decor Made Easy
Oh, no — the holidays are coming up, and you don't have decorating ideas. Vinyl wraps can cover doors and other flat surfaces to make decorating even easier. For Christmas, wrap a door with red or green vinyl and hang a festive wreath on it: just two steps to holiday cheer. You don't have to spend a lot of time or effort getting into the holiday spirit. Vinyl furniture wraps help facilitate the process, so you can get back to enjoying your holiday parties, food and drinks.
7. Make Cheap Furniture Look Fancy
We get it. Everybody has a tight budget at some point in their life, but you don't have to settle for cheap-looking furniture. With low-cost vinyl wraps, you can upgrade the appearance of your economy furniture. If you like the modern look of bright, solid colors, don't sigh outside the pricey furniture store windows, wishing you could get that look in your home. Not everyone can afford to shop at the high-end furniture dealers that sell sleek, European-inspired designs. But anyone can use wraps to get the same look with Ikea furniture.
8. Hide Furniture Problems
Don't throw away damaged or stained furniture that still has good structural integrity. Keep it and cover the flaws with furniture wrap. Vinyl masks scratches and stains on older furniture without needing to use putty or sandpaper. If you need a quick way to make your furniture look new, vinyl wraps are the answer.
9. Cut Down on Glare
Glossy furniture, especially under bright lights, can create a glare in a room that could ruin your view of a TV or computer screen. Solve the problem by covering your furniture surfaces with a reflection-free matte wrap. With so many choices, you can select a wrap to match the existing color of your furniture or choose a new color palette for your home.